Hello, friends and family, and happy belated new year.  And, as always, happy plants!
I like to review my new year's resolutions at least monthly, and I've recommitted to a few goals – including gardening and blogging.  I love sharing details of my garden efforts, business efforts, teaching efforts… and I figure this blog is the best way to do that.  
So, here's what's new: 
New AeroGarden & Tasty Herbs!
I got an AeroGarden for Christmas!  It lives in the bedroom, on top of my dresser, and puts off enough light that I've added plants around it, too.  It came with an herb kit, and the basils (Genovese and Thai) and dill are doing the best.  The curly parsley is slower but still trucking. The mint and thyme never sprouted, so we replaced the seeds with tomatoes.  This machine is awesome at sprouting seeds! Also, so far I've had good luck transplanting spare seedlings into dirt, so that's the current plan for the 'maters.  Supposedly, this machine is too short to grow good tomatoes, so there's definitely experimenting to be done!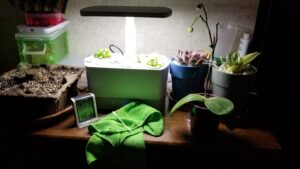 This is my first experience in true hydroponics (as opposed to sticking plants in the top of the fish tank). It's simplified what seems intimidatingly complex.  The light automatically stays on for 15 hours, & the machine tells you when you need to add fertilizer, every two weeks.  A little light comes on to remind you!  I'm smitten.  And the built-in-light is extraordinarily bright.  On the one hand, I desperately want the $800 AeroGarden XL Farm so I can grow tomatoes indoors year-round. Then again, it's $800.  
The obvious solution is to build my own homemade hydroponic system for much cheaper. If I used buckets and pumps (or even an aquarium or two) that I already have laying around the house, I could focus my cash on just the lighting system, and grow 'maters for what is overall far less money invested in the system. I even have a plant cage that is inaccessible to the cats, with some basic lighting already attached!
But this is still awfully intimidating, so my current compromise is to try to grow tomatoes in dirt, and work up to the hydroponic effort.  Apparently, YouTube is a much better resource than I've given it credit for, and I should study up accordingly.  But still, dirt is so much more approachable, in my opinion.  
Redo The Plant Closet
So, I've reorganized the plant closet, and moved a few of the tougher plants out into the house (living room or bed room, currently).  (They need to be tough, or defensive, like a cactus – or else the cats will eat the plant.  Of course.)  This made room for more cat-unsafe plants, like tomatoes, to grow in the closet, and I've already started a few tomato seeds to get this party going.  The plant closet is overall more efficient with more even lighting, so pretty much everything in there, from tomato seedlings to agaves, is thriving.  Oh, and don't forget the real and pseudo cacti!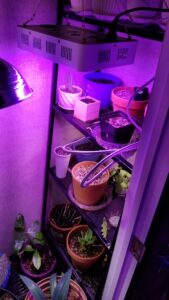 Let me explain: I'm preparing for a class on Outschool that I designed like a game show, called IS IT A CACTUS?!  I bring plant specimens that are either true members of Cactaceae, or simply resemble them, and let students guess.  Then, I reveal key characteristics and whether or not they are a cactus.  Personally, I think this sounds like great fun, but so far no students have signed up.  Give it time!  I've been transplanting small specimens into matching white pots to make things more even, so several plants are still recovering from the transplant, so it's actually good we're waiting a bit.  
Finally, I've started scheming about roses, even though it's still a few months before I'll be able to plant any.  We've got a strip of dirt between our walkway and driveway, so it's perfect for roses.  I've chosen a few cold-hardy breeds from my favorite rose website, www.heirloomroses.com .  Stay tuned for more on the rose endeavor!